Beginner's Guide to Buying a Mandolin
Posted on:
February 15, 2020
/
Mandolin, a small stringed instrument usually picked with a plectrum. The common version consists of four courses of doubled metal strings. One can also find a version with five or possibly six-course versions. It can be closely related to the violin. There are various types of mandolin present out there, but the most common ones are flat-backed, carved-top, and round-backed (Neapolitan). For a beginner, one should start by choosing a type of mandolin that best suits and the one you're interested in.
Types of Mandolin
1. Bluegrass mandolin has a base that dates back towards the end of the 19th century. The two types of mandolin are A-style and F-style. The A-style resembles a teardrop-shaped and the F-style has an added scroll and point and both of them are available with oval or f sound holes.
2. Folk mandolin has a deeper and larger body with a round sound hole instead of f-holes. The type of woods commonly used are cedar and spruce for the tops, rosewood, mahogany, and walnut for backs and sides. They have flat and slightly arched but not carved.
Electric or Acoustic?
Electric mandolins are typically are more expensive than the acoustic ones, your intention of use will decide your choice here.
Are you going to play solo or in a group? Are you going to play in a mandolin orchestra, or in a bluegrass band where other instruments are involved?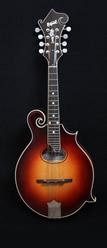 It's difficult to answer these questions, but they're crucial as they'll help you get thinking about how you'd like to use your instrument. If one needs to amplify the mandolin, a mic and speaker system can be used or a loudspeaker or an amplifier. The real problem arises when playing with a band. The body of the instrument may produce different sounds from the reflection of other instruments around you and feed it into the microphone. Acoustic-electric mandolins may be your go-to. They have what is also known as 'piezo-electric' pickup in the bridge, which converts the vibrations od the strings into electrical impulses which are then fed to the amplifier.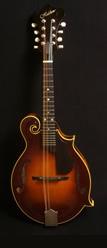 If being plugged in all the time isn't a problem then one can opt for semi-hollow electric mandolins. The concept of the semi-hollow mandolins is the same but it consists of a wooden center block inside the instrument which reduces the amount of feedback drastically with a compromise of tone quality and production of the instrument.
If you decide to purchase an acoustic one and feel the need to plug later then there's always an option of getting the bridge replaces with a piezoelectric pickup. There's also the option of using the magnetic pickup one similar to the ones used for violins and other stringed instruments.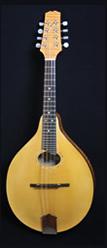 Brands
There are lots of options available but this list with the reviews will help you to recognize a mandolin brand that is top-rated and which best suits your needs.
1.Rogue 
Rogue can be considered a store brand equivalent to Gibson and Fender. They have a collection of surprisingly-low budget mandolins and other stringed instruments as well. They specialize in using the tried and tested designs for low-cost production of instruments. With these low prices, it's the perfect entry point for newbies. It's interesting to note here that they might not be the top of the line brand but they do make quality mandolins for such a pricing.
Some of the recommendations are:
Rogue RM-100A A-style Mandolin
Rogue RM-100F F-style Mandolin
2.Ibanez
It is a Nagoya, Japan-based company that started in 1957 and has since been alongside the leading instrument manufacturers in the world. They have a wide variety of models and styles of mandolins and other instruments. Here the selling point is the pricing that varies from low to mid-range depending on the innovative designs.
Some of the recommendations are:
Ibanez M510 A-style Mandolin
Ibanez M522 F-style Mandolin
3.Kentucky
It has been recognized among the top-rated brands for beginner-level mandolins. Originally produced by Saga Music, based out of California with factories overseas, Kentucky's specializes in acoustic instruments like Mandolins which makes them the go-to place.
Some of the recommendations are:
Kentucky KM-150 A-style Mandolin
Kentucky KM-272 Artist A-Style Mandolin
4.Gretsch
It was founded in 1888 by a German immigrant. Today it is known for quality mid-range electric drums and guitars. During the 1950s, the company had a notable stock of mandolins and other acoustic instruments that have been brought back to production recently. With modern production techniques, they have applied their classic American style to give out high quality yet affordable throwback mandolins.
Some of the recommendations are:
Roots Collection G9310 New Yorker Supreme
G9350 Park Avenue Acoustic/Electric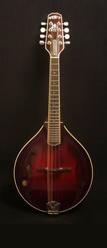 So, which is the one for you?
For the criteria where the price is the lookout, then Rogue RM-100A should be the go-to as it is perfect for a beginner. You can kick start your mandolin adventure at a very low investment.
When you want an instrument that lasts long enough, the Kentucky KM-150 can be opted as it the best mandolin for the average player.
It should be noted that as you learn more and more about the mandolin and it's tunes and get used to it, you eventually find the perfect style that best suits you. It will also make you pick the desired brand and the specific specialized model.
Proper research and knowledge will help you pick better. Overall KM-150 is the perfect blend of quality, pricing, and versatility.